My most treasured memories of childhood go back to the times my friends and I played in our backyards or on our streets. During the summer, we played outdoors every single day. We made up our plays, rode our bikes, played hopscotch, and made new friends. Watching cartoons was limited to a maximum of one hour per day. However, things have changed over the past couple of decades.  Rise in helicopter parenting, fear of the outside and the lure of electronic devices and TV programs, together with rapid urbanisation of natural spaces, are all leading children to spend more time indoors.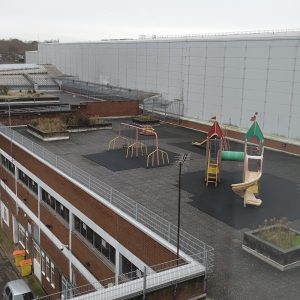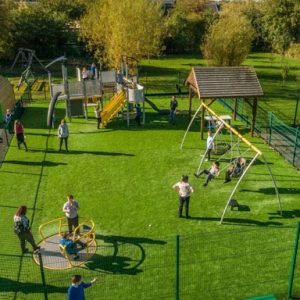 Photo Credit: left: Niloofar Shoari; right: http://hags.co.uk/en-gb/case-studies/kingsland-primary-school-wakefield
Experts emphasize that connection to nature and green spaces is essential to the health and development of children. There is a myriad of scientific studies indicating that contact with green spaces has beneficial impacts on academic performance, cognition, physical and mental health, emotional well-being, and boosts happiness, confidence, and creativity. However, the main problem is unequal opportunities for children to access and benefit from green spaces. In fact, the latest Monitor of Engagement with the Natural Environment survey showed that children from lower income areas are 20% less likely to spend time outdoors compared to their peers from higher income areas.
The solution is at our doorstep: schools. Schools provide strategic settings for contact with green space as children spend around 35-40 hours/week in schools. Researchers of the Pathway to Healthy Equitable Cities project put forward steps to understand the current situation of outdoor spaces in London schools by answering the following questions: where are the schools with the largest and smallest open and green spaces located?  Does the provision of these spaces differ between fee-paying and non-fee-paying schools? Does children's socioeconomic status affect their experience of schools outdoor spaces?
To answer these questions, we combined school data from the Department for Education and Ordnance Survey (the national mapping agency of Great Britain) so that we have information on school boundaries as well as school characteristics such as the type of school and number of enrolled pupils. We then used land use data provided by Ordnance Survey to quantify the open and green spaces inside schools.
We found that nearly 400,000 pupils in London (~30%) have less than 10 m2/pupil open space, the minimum recommended area by the Department for Education, at their schools. More than 800,000 pupils (60%) attend schools with less than 10 m2/pupil of green space. On average, more than 70% of schools located in Inner London boroughs (especially Southwark, Lewisham, Camden, Hackney, Tower Hamlets, Kensington and Chelsea, Islington, Westminster, and City of London) suffer from lack of adequate outdoor spaces. On the other hand, as distance from central London increases, schools become bigger and greener.
Fee-paying schools generally have less open and green spaces compared to non-fee-paying schools, mainly because of their position on expensive lands. However, pupils at fee-paying schools can still access green space through costly extra-curricular activities and out-of-school clubs. Inequalities widen when school grounds become the only source of access to green space for pupils at non-fee-paying schools. Among non-fee-paying schools, the provision of green space slightly decreases with an increase in the percentage of pupils eligible for free school meals (used as a marker for socioeconomic status).
Many London schools are already struggling to provide enough spaces for children to learn and thrive. For all these schools to meet the 10 m2/pupil open space area requirement, it is estimated that London will need to acquire an additional 1,500,000 m2  open spaces, equivalent to roughly 200 football pitches. With the aim of improving different aspects of child's development and health in an equitable and sustainable way, we urge public health policies to provide incentives for schools to develop and implement assets (e.g., rooftop gardens) and/or resources (e.g., organizing nature-based activities) to facilitate access to green space for all children. In addition, by greening schools, we make the best use of available spaces to make London the world's greenest global city.