By Abosede Sarah Alli and Jacob Doku Tetteh
The 2019 Planetary Health Alliance (PHA) Annual Meeting held at Stanford University, California, USA brought together about 500 participants from more than 40 countries united by a common goal of building a strong, global and interdisciplinary community mobilized for urgent and equitable planetary health action. The PHA is a consortium of over 200 universities, non-governmental organizations, research institutes, and government entities from around the world committed to understanding and addressing global environmental change and its health impacts.
The plenaries, keynotes, workshops and poster sessions were extremely diverse both in scale and in scope, with topics ranging from the mental health impacts of environmental change to exploring the role of indigenous knowledge in advancing planetary health. We also presented our research from Pathways (Pathways to Equitable Healthy Cities' Project) spanning air, noise and water pollution in Accra during the poster session.

Our experience from participating in the speaker ambassador program
We had the opportunity to be a part of 37 travel scholars from 20 countries that participated in the speaker ambassador program. The mentorship program paired emerging scholars with conference speaker mentors to engage over lunch and share their takeaways via blog and social media posts after the conference.
Sarah
The mentorship lunch gave me the opportunity to directly engage with conference speakers and gain new perspectives from their contributions to global health. I was therefore delighted to highlight Dr. Howard Frumkin's intriguing plenary lecture on "Non-communicable diseases (NCDs) and planetary health: Urbanization, air pollution, energy, and the built environment", in a piece written for PHA blog.
Particularly interesting was that his presentation touched on how rapid population growth in urban sub-Saharan Africa (SSA) has outpaced structural transformation, which has resulted in downstream impacts such as rising pollution levels. The concentration of industrial and domestic energy needs in these cities often translates to high air pollution levels – a major risk factor for non-communicable diseases (NCDs). He noted that NCDs accounts for about 40 million deaths annually with low- and middle-income countries (LMICs) being disproportionately impacted.
Dr. Frumkin stressed that while many risk factors for NCDs are of environmental origin, much of the current discourse on NCDs prevention has been focused on changing health behaviors without tackling environmental risk factors. He added that the strategies needed to effectively tackle prevalence of NCDs include reducing industrial emissions, moving to clean energy sources and advocating for increased political response to planetary health issues. He further emphasized that investment in pollution control policies has the potential to improve both human and planetary health.
His recommendation underscores the importance of our ongoing research which entails high-resolution assessment of air and noise pollution in Accra, Ghana, as well as the development of a protocol that is scalable and adaptable to other SSA cities. This is part of Pathways project effort to provide scientific evidence on how urban planning and policy change can be directed to enhance planetary health and health equity.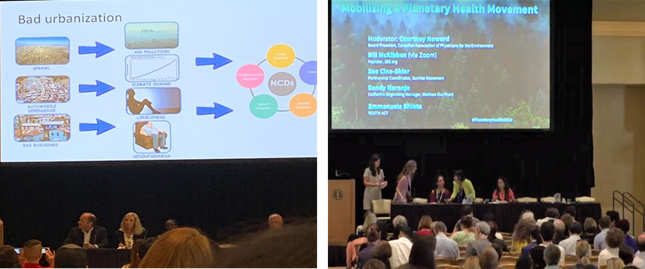 Jacob
Apart from the mentorship lunch, the poster session introduced me to the various works done by conference members in an attempt to safeguard human health and the natural systems that support it. The poster session also provided an opportunity for an immersive experience into sustainable foods as we were served a variety of what are called "impossible foods" (i.e., the conversion of plant-based substitutes for meat products) and to better understand the science behind it.
The conference also provided me the opportunity to spotlight Dr. Rebecca Shaw, a keynote speaker who spoke on "Evolving and Policy to Meet the Challenge of Planetary health", in a blog post written for the PHA platform. Dr. Shaw discussed the science of conservation, thus, the protection and restoration of the diversity of life. She also stressed that policy must recognize that human and nature health are interlinked and she referred us to some important policies at both the national and international level that currently recognize and act on this. These include Sustainable Development Goal 13, the Paris Climate Accord, the Convention on Biological Diversity, the Aichi Forest 2010–2012, etc. and stressed that policy might not be lacking but rather the implementation of the policies.
Dr. Shaw also stated that the "New Deal for Nature and People" envisions the protection and restoration of nature by 2030 to benefit the planet and individuals. Her caution was for us not to be drawn back by our failures as researchers in planetary health but to look rather at the opportunities presented in equitable manner for the improvement of the health and well-being of the people and the planet. This ties into Pathways work to reduce environmental health inequalities.
Remarks
Although the conference took place several months ago, we remain conscious of the enormous threats being faced by our planet, especially those arising from environmental pollution. We were inspired by the strategies presented by local initiatives (such as Sunrise Movement, 350.org and Mothers Out Front) to mobilize planetary health movement and catalyze change in their communities. There is an urgent need for collective action to address the degradation of earth's natural systems. Therefore, we are collaborating with other ambassadors  to establish PHA regional blocks in SSA to create awareness about environmental pollution at the grassroots and communicate research findings to policymakers.