Access to potable water supports life and improves well-being. However, household access to potable and uninterrupted drinking water supply continues to elude communities throughout Accra as well as its neighbouring towns. This commodity is essential for the survival of Accra's residents, and the absence of reliable water threatens their very existence.
As Ghana becomes increasingly urbanized, and its population increases exponentially, pressures on public utilities – including potable water provision to urban residents – become more pronounced. If left unchecked, unstable water provision will make achieving Sustainable Development Goal 6 (Target 6.1) a herculean task. This target impresses on all member states to "achieve universal and equitable access to safe and affordable drinking water for all" by 2030, meaning, Ghana has 9 years to deliver on this goal, yet the situation on the ground is far from this aspiration.
The Ghana Water Company Limited (GWCL) is the main urban utility company mandated with the delivery of treated water to residents. The GWCL operates through three regions in this metropolis: Tema Region, Accra West and East Regions. It supplies about  77% of urban areas nationwide, leaving a supply gap of about 57 million gallons of water per day (GWCL, 2021).
Water Rationing, Shortages, Interruption and 'No Water Flows'
Although water rationing in this metropolitan region is not a new occurrence, recently many areas have endured months of grave water shortages. For instance, parts of Kpone township lived through a period of acute water scarcity. Some residents in the community had to resort to obtaining water from the Sunon Asogli Power Company (an electricity provider)  to meet their daily water needs.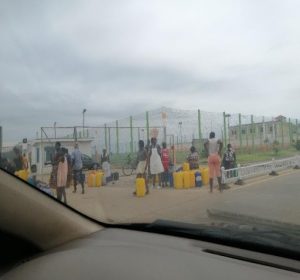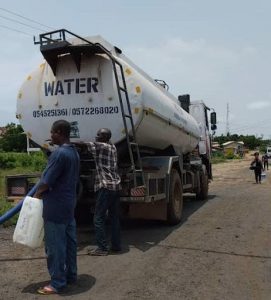 Pictures: Kpone Residents at the Sunon Asogli Power Company to fetch water (left); Water Tanker to provide residents with water during the period by their Member of Parliament (right)
Callers into one of the national morning shows based in Accra bemoaned their many water access challenges. Residents of Ashaiman (Lebanon), Spintex, and Kpone relayed experiences such as "no water since the time of government free water", "billing of residents yet no water flow", and intermittent water flows. The government free water was an extraordinary measure to help reduce the impact of the covid-19 virus through frequent handwashing with water and soap, rather than a program to address water access issues.
Further, according to news media coverage cited online, in April and June, many communities felt the pinch of erratic water supply. Some residents mentioned that they have had to purchase sachet water (500ml plastic packaged drinking water) to meet their daily drinking and bathing needs. Residents indicate that the situation not only impacts the ability to meet their basic water needs but also their very livelihoods because home-based enterprises such as hair-dressing salons cannot operate. Some inhabitants also stated their inability to drink tap water because such water may not be safe.
The Midnight Water Hunt and Storage
In the same media interviews, dwellers in the Tema and Accra West Regions continue to battle with water access through the taps. Some residents had to stay awake until about 2am in anticipation of tap water flow so that they could fill their barrels, jars and water tanks in case the water flows. They expressed how severely the situation affects them, and pleaded for it to be checked. Some residents also engaged the water tanker services to support their water needs, increasing their daily expenses.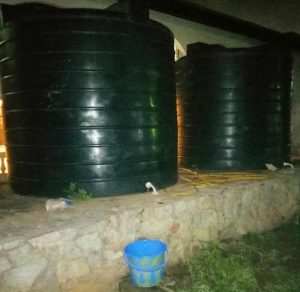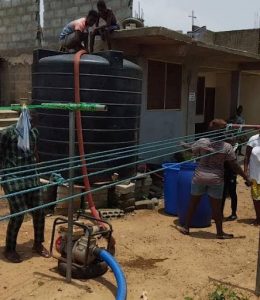 Pictures: Residents store water both night (left) and day (right) to support their lives
The Challenges of GWCL 
The GWCL partly attributes interruptions in the water supply to irregular power challenges and faulty pumps. Another challenge affecting the provision of water to these areas is the need for major maintenance of water valves, changing of old pipes, among other infrastructure investments. Some residents complained that the maintenance schedules are not followed thereby worsening their water shortage problems. Their non-adherence is also a result of poor housing and spatial planning in addition to political interference.
Future Expectations
Potable and reliable water access has become elusive for many, especially those in low-income areas of Accra. For the underserved and unserved, lack of water affects both the ability to meet basic household needs as well as the ability to make a living, making this a critical area for intervention. Therefore, given the extent of the problem, considerable investments and retooling of the GWCL by the government is the surest way to mitigate the impact of their interruptions on the communities they serve. The Ministry of Sanitation and Water Resources and the GWCL also need to rethink their strategy for water supply in communities affected by the major maintenance works – likely through the construction of community water reservoirs to sustain these communities during times of their need. Another strategy could focus on the development of groundwater resources in areas where the water is not salty. It is only after these recurrent problems are addressed that providing an affordable, accessible, reliable, and contaminant-free 24-hour water service in line with SDG 6 to all urban residents can be realized.